About Clear Aligners for Children & Teens in Smyrna
At Evergreen Orthodontics, we are excited to offer clear aligners to both children and teens. We want patients of all ages to be excited about starting their journey towards a more beautiful, healthy smile, and clear aligners can help us do that.
Removable & Nearly Invisible
Clear aligner systems like Invisalign provide an alternative to metal braces that meet the unique needs of children and teens. Clear aligners don't require brackets, wires and bands like we need with traditional braces, so your orthodontic treatment will be discreet. Your friends may not even notice that you are wearing aligners!
At your first free consultation, Dr. Alena Lotz will be able to determine if clear aligners will lead to the best option for your unique smile.
Your clear aligners are made of nearly invisible plastic. Instead of sporting metal braces, you will be discreetly aligning your teeth and correcting your bite! At Evergreen Orthodontics, we provide this esthetic option to allow our younger patients to benefit from the newest technologies!
Benefits of Clear Aligners for children and teens
Eat your favorite foods!
You probably have friends with braces who aren't allowed to chew gum, eat gummies, or munch on certain foods like popcorn or apples. With clear aligners, you can eat all of your favorite foods whenever you want. For children and teens, this is a huge benefit of aligner treatment. Parents can relax knowing there isn't a long list of restricted foods.
Brushing and flossing is a breeze
Have you ever seen someone with white spots on their teeth? That is likely due to poor or improper brushing and flossing during their braces treatment. With clear aligners, brushing and flossing is so much easier. The aligners simply need to be removed, and you can brush and floss normally. We see a decreased incidence of white spots with clear aligner treatment, which is a huge bonus.
Perfect for Busy Schedules
Clear aligners for children and teens treatment is ideal for busy parents in Smyrna, Atlanta, and surrounding areas because you won't need to come in for any emergency appointments to fix broken wires or brackets.
Clear aligners often require fewer appointments than traditional metal braces because you get your aligner trays in advance, and each visit requires less "chair time."
Our average children or teen patient in clear aligners sees Dr. Lotz once every eight weeks for a total average treatment time of 9 to 15 months.
Great for Active children and teens
Clear aligner treatments basically straighten teeth the same way metal braces do. Clear aligners provide an ideal choice for children and teens in Smyrna who play sports, play certain types of instruments, love crunchy foods, or are worried about how metal braces could look at homecoming or in the yearbook.
With the clear, comfortable technology of clear aligners and Dr. Lotz's expert care, children and teens can keep being themselves and love their smiles even more.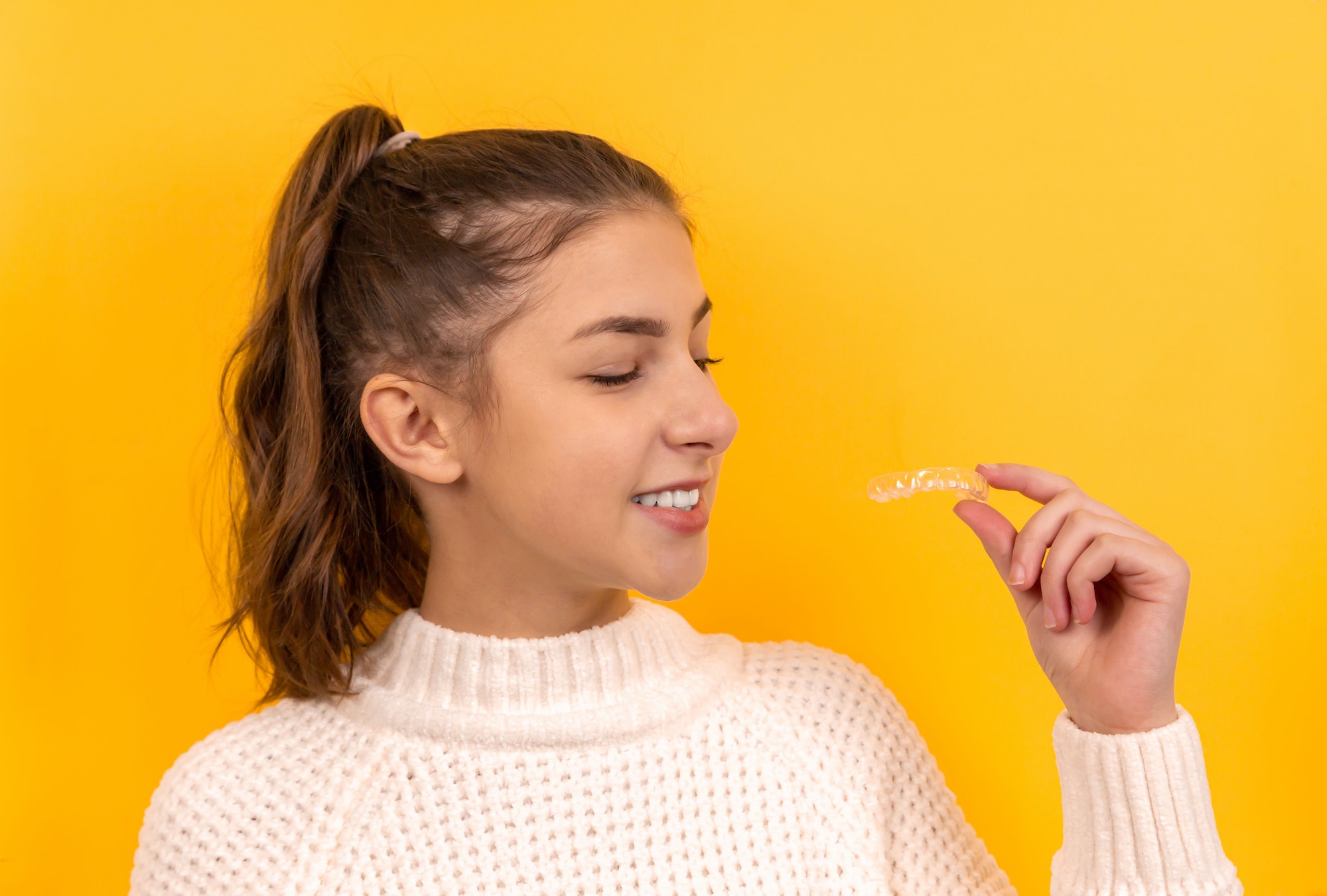 How Much Do Clear Aligners Cost?
At Evergreen Orthodontics, we understand that every patient's needs are different.
Talk to Evergreen Orthodontics About Clear Aligners
Dr. Lotz may not recommend clear aligners in every instance, but she can advise you about what options are best for you and your lifestyle.
Schedule your free consultation with Dr. Lotz at our Smyrna office to learn if treatment with clear aligners could be right for you.